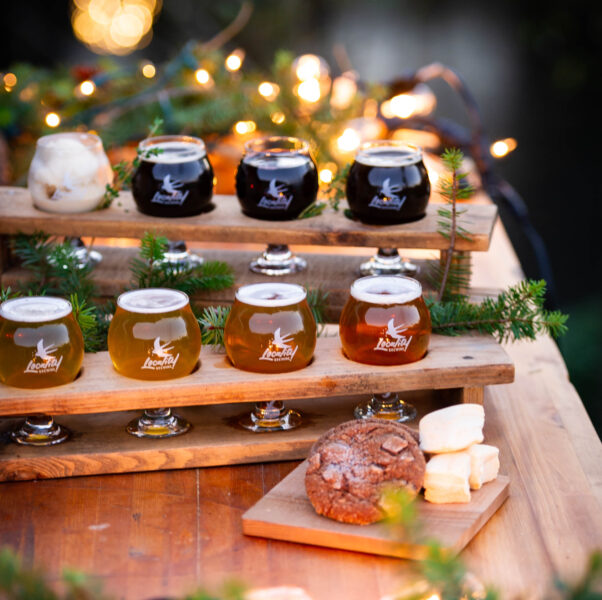 Locality Brewing leads with the mission to create beer that celebrates the land, handcrafted from field to glass, an ode to the old ways of farming, harvesting, malting, and brewing. With the goal to slow people down and reconnect them to the land, people around them, and themselves, over a truly handcrafted beer. Whereas the overall vision of Locality is to embody a modern, social, and mindful approach to the age-old beer-making process, by honouring the people, ingredients, and hard work which goes into every glass. Locality Brewing is located on the MacInnes Farms property, which Melanie's parents began operations on in 1977. The farm has found success as a diversified farming and agriculture operation, currently growing 40 acres of cottonwood trees and raising free-range chickens (also collecting their eggs). MacInnes Farms has a sister corporation Be Ingredients, to produce and sell honey, hops, hazelnuts, and barley. The concept of Locality naturally arose from a generational passion for local farming and the love of community, and fresh local ingredients.
Question: How are you supporting other local businesses?
Answer: Locality Brewing uses local business for all aspects of our business. From our picnic baskets, which include cheeses from Golden Ears Cheesecrafters, meats from Oyama Sausage Co, jellies from the Taste of Okanagan and baguettes from Lee's Market and merchandise, including, hand-crafted mugs from Ali Rae, earrings from Knotty Wood Designs. We also use all local ingredients in our beer. Some of our beers are 100% from our farm, but others include ingredients from local farms down the street or within B.C. We always are aware of the Locality of any items sold or used in our business.
Question: What social and environmental practices are you proud of?
Answer: We have several beers that have a zero km travel distance from the farm, to processing, to manufacture, to drinking (if you drink the beer on the farm). This greatly reduces transportation emissions traditionally created through the different processes. In terms of delivering wholesale beer, we try to deliver most of our beer using an electric vehicle. We are always searching for ways to increase our efficiencies and decrease our environmental impact.
Photo Credit: Creative Crocodile
Follow @localitybrewing on Instagram: