When Saul Brown, a founding member of LOCO BC, started Saul Good Gift Co—a certified B Corp—in 2006, it was with the intention of creating and growing an environmentally sustainable gift basket business. In addition to his commitment to environmentally sustainable business practices, Saul's business practices are also driven by a commitment to local purchasing (73% of his suppliers are locally owned companies) and developing mutually beneficial relationships with other local businesses and social enterprises—a commitment that has generated a high level of local social and economic impact over the years, particularly for the growing social enterprise sector in Vancouver's Downtown East Side.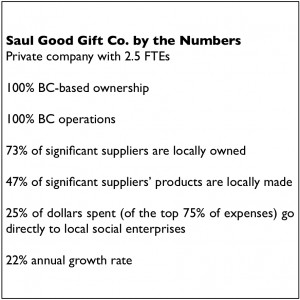 Question: What inspired you to start collaborating with social enterprises?
Answer: A series of events and decisions that occurred within the first few years of launching my business got me thinking about the social side of sustainable business. One of my earliest collaborative partnerships with a social enterprise occurred in 2008. It emerged out of a networking event where I met a Rona employee who told me about Tradeworks Custom Products. I started working with the business to locate and procure local, sustainable materials for their products and I helped them grow their business. I also learned a lot about the social side of sustainable businesses through sharing work space—and collaborating—with Toby Barazzuol (Eclipse Awards) on a variety of community initiatives that sought to address both social issues and environmental sustainability concerns through business.
Question: How does collaborating with social enterprises generate local, social impact?
Answer: When we looked at the top 75% of our expenses, we see that 25% of the dollars spent go directly to local social enterprises such as Starworks, Tradeworks Custom Products, and East Van Roasters. However, generating this kind of impact hasn't happened overnight; it's been the result of having a clearly defined vision, goals and strategies that have steered decisions at each stage of business growth. It isn't just about the social impact: these collaborations and partnerships also create value and a competitive advantage for both parties. For example, we have been working with our fulfillment partner, Starworks, to enhance business processes and systems in place that now makes it possible for them to provide "pick and pack", just-in-time fulfillment requests from clients. ). I collaborate with social enterprise vendors and partners in ways that empower them to access new business opportunities or markets. Saul Good Gift Co also generates social impact through sharing the stories behind the products in the gift baskets. The stories are a "non-preachy" way of raising awareness about social enterprises and social issues.
Question: What advice would you give to other socially responsible business owners who are interested in collaborating with social enterprises?
Answer: First, start with a clear goal and understanding of what the strategy is behind the decision if you want to generate a social impact through cultivating mutually beneficial relationships with social enterprises. Second, you need to be really clear about your company's culture and values and ask yourself what resonates with employees, customers and other stakeholders. Third, it's best to start small. Do a little bit, then step and evaluate the process. A key question to ask oneself is, does it create value for both partners?
Article by: Susan Chambers, author of Small Business, Big Change: A Microentrepreneur's Guide to Social Responsibility