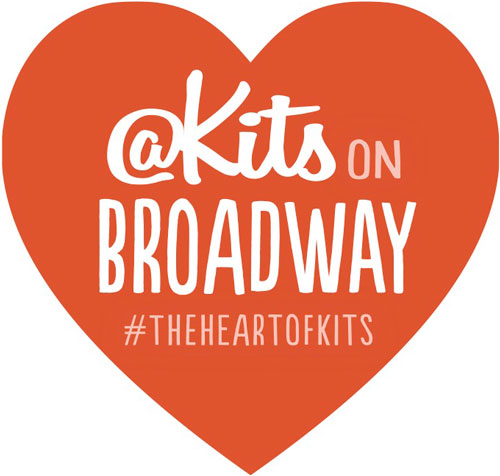 Kits on Broadway is located in the heart of Vancouver's Kitsilano neighbourhood. West Broadway offers a fantastic mix of shops, restaurants and services, and a short walk or bike ride to beautiful parks and beaches. When you visit West Broadway, you'll feel right at home. The vibe is welcoming and friendly. The tree-lined streets pave the way for a beautiful stroll. From joggers to baby strollers, to skateboards and bikes, there's a pace for everyone.
Kistilano is named after the chief of the Squamish Nation, Khatsahlano. The town of Snauq, inhabited by people of the the Squamish Nation, was situated where the HR MacMillan Space Centre (Vancouver Planetarium) sits today. Developing industries, including saw mills, fisheries and transportation such as the CPR railway, attracted immigrants and settlers to the area. When BC joined the Confederation in 1871, Snauq was designated a reserve and called Khatsahlano, meaning "man of the lake" after its famous chief. This name was again changed in 1905 by the CPR to Kitsilano. In the 1890′s as the community of Vancouver grew, the Lulu Island Railway interurban line connected Kitsilano to surrounding areas. Broadway road was developed in the beginning of the 20th Century to meet the needs of an expanding population. The name of the route was changed to simply 'Broadway' in 1909. Initially commercial establishments were located around Cambie and Main streets, and the rest of the route consisted of single-family dwellings. The beautiful craftsman style heritage homes we see today in Kitsilano date back to the boom period in 1910–1912. After World War II, and also during the dictatorship in Greece in the 60′s and early 70′s, Greek refugees immigrated to Vancouver, congregating in the Kitsilano area. This led to the creation of Vancouver's 'Greektown' and the development of cultural landmarks in Kitsilano, including St. George's Orthodox Church, the Athens Social Club, Greek supermarkets, restaurants and many other Greek-related organizations that are still a part of the area today. In the 1960′s, Kitsilano was an affordable place to live, and attracted people from the counterculture across Canada and the US, becoming a landmark for hippie culture. In following decades, the area drew urban professionals and continues to this day to be a desirable place to live, work and play.
Kits on Broadway offers great shopping, dining and events:
West Broadway's shopping experience covers needs, wants and everything in between. It's truly exceptional. Your Kitsilano shopping directory includes stores that offer unique gifts and decor, spas where you can treat yourself (affordably), fashion that is stylish and well-made, and services that help keep you organized (so you have more time to shop!).
From local to Mediterranean and more, eating on West Broadway is a trip for your senses. Whether it's a date night, catching up with friends, or grocery time, you'll find and savour delicious dishes and treats. And to complement delicious food, there's tempting drinks! From cafes, to lounges, to pubs, there are many great places along West Broadway to raise a glass or a coffee cup.
The West Broadway BIA and its merchants host several exciting events in the Kits area, including outdoor movie events and seasonal celebrations. Visit our event calendar for upcoming Kitsilano events. If it's Greek to you, then save the date for Greek Day — one of Vancouver's celebrated cultural events. The streets around West Broadway are filled with all things Greek – food, music, cultural exhibits, demonstrations, and more. Loukoumathes. Souvlaki. Pasteli. Tzatziki. Spelling and pronunciation aside, it's simply delicious – come hungry and be delighted! The joy is contagious and it's good times for all ages.