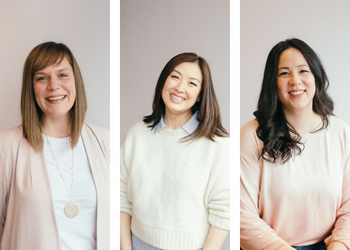 The Village Community Acupuncture is a community acupuncture clinic in the Hastings-Sunrise / East Village Vancouver neighbourhood. We offer a space that is safe, body-positive, nurturing, and gender-inclusive. Wherever you are in your healing journey, we welcome you with open arms!
Our expertise is using acupuncture to relieve your symptoms and restore you to glowing good health. We are a team of badass practitioners with extensive training in acupuncture and Traditional Chinese Medicine (TCM). For tangible results, you need more than a treatment — you need a plan. We take a detailed history, map out a custom treatment plan, track your progress, and adjust the plan based on your body's response. We'll also help connect you to other excellent service providers in the neighbourhood to support you.
Question: How are you supporting other local businesses?
Answer: The most important way is probably through a referral system to other paramedical and medical practitioners in the neighbourhood. We rely heavily on The Chiro Culture, Health Source Medical Clinic, Woodland Physiotherapy, Vancouver East Massage Therapy, Hastings Chiropractic Clinic, Pomegranate Midwives, Tall Tree Physiotherapy & Health Centre, Grind House Athletics (personal training) and others to support our patients in their health needs. We make so many referrals, and they refer back to us, supporting each other's businesses, the whole community, and integrated services for our client's best health.
I'm a small business and I use a walk radius for making decisions on purchasing – I can get about anything I need within the Hastings Sunrise / East Village Vancouver. Almost all of our purchasing is local – approximately 95%. We purchase our medical supplies from a local distributor, our accountant is based in the Lower Mainland, and our hand sanitizer is from Odd Society Spirits. We buy toilet paper and other supplies from London Drugs, and we get our paper towels from a nearby small business Value Choice. Our insurance business and practice liability insurance are also with local companies in the lower mainland.
Question: What social and environmental practices are you proud of?
Answer: Socially, what's most important to me, is that I set up The Village Community Acupuncture in the Hastings Sunrise/ East Village Vancouver neighbourhood because our family lives here and I wanted to walk to work, to drop my kid off on the way, and get groceries on the way home. I also hire hyper-locally, women in particular who live in the neighbourhood within walking distance. It's an incredibly important part of community building for us that we are part of the Hastings Sunrise/ East Village Vancouver neighbourhood. We support local causes and charities, we're always donating to silent auctions, especially to support schools in the area.
As Acupuncturists we are self employed and contract based, and it's important to me as a business owner that they are paid above a living wage. The Village Community Acupuncture has grown based on 99% word of mouth, as acupuncturists we attract our own clients, and as a business I work really hard to bring in clients via different marketing strategies. As practitioners, we take care of eachother, we can squeeze ourselves in for a treatment whenever we need it, it's a huge added benefit of working with some of the best acupuncturists in health care. So don't be surprised if you see one of your neighbourhood acupuncturists chilling beside you at your next treatment.
Follow @thevillageacupuncture on Instagram: