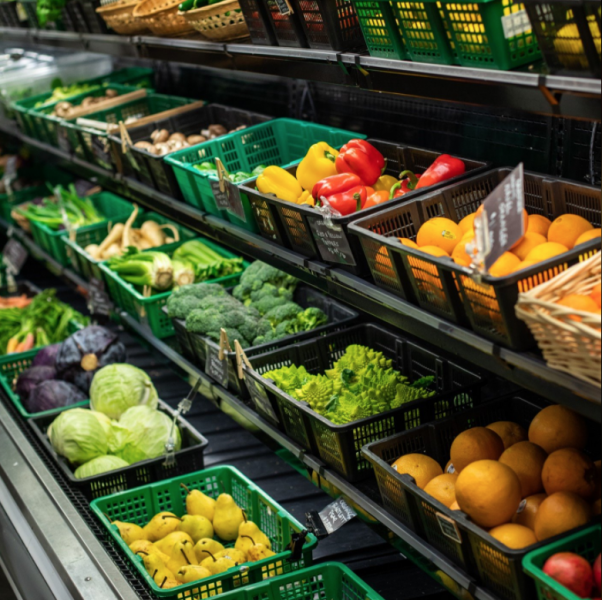 Goodacre Market is a farm-to-table grocery and bulk food store supplying the best the Sunshine Coast has to offer in fresh produce and foods in a package-free shopping environment. We are supporters of local, delicious and fresh foods! It's a family business, open since September 2019; Madeline Pearson is the owner, and her mother is the store's manager.
Question: How are you supporting other local businesses?
Answer: A lot of our inventory is from local businesses – it's a core part of the business model to highlight as many Sunshine Coast farms and producers as possible. When we can't get it on the Coast, we also support businesses in the Lower Mainland, trying to keep that money within other nearby communities. Our produce is local in season; in the summer I buy from as many local farms as possible – Little Red Wagon Farm, Barnabas Farmworks (Keats Island), and Paradise Valley Produce (Powell River). We stock Ginger Jars soups/sauces from food that would otherwise be wasted, Mamma Musey Pierogi, Coastal Cultures water kefir, Buono Osteria Restaurant pasta,  pre-made bowls and meals from Oh-Miso! who started as a pop-up in the Gibson Public Market, Suzy's Bees Wraps jams and beeswax wraps, and RainFlorist flower bouquets. There are so many great local businesses on the Sunshine Coast.
I also try to make sure all of the purchases I make for my business are with BC businesses. I bank with Vancity, my bookkeeping is from M. Taylor's Accounting, and I use a local farmer for my food waste and compost. For my baking products, I buy from some local food distributors like Snowcap. I get flour from Roger's Organic Foods, so that I know that the grains are sourced from Canada, because with some other local brands they're not. I buy my insurance from The Co-operators, a Canadian co-operative based in Ontario, so that's Canadian. My business loans are through Futurpreneur, Community Futures and Rhiza Capital.
When I opened my store, I used the Wood Shop Workers' Cooperative to build out the space, and right now I've hired them again to build another set of shelving because I'm expanding my product offering. For my project, they used reclaimed SPF-labelled wood for most of the project at my request. So my shop is made of sustainable, Canadian lumber.
Question: What social and environmental practices are you proud of?
Answer: We partner with other local businesses when we can. In 2020 I worked with Lone Wolf Bakery and The Bricker Cider Company who started up a delivery service for their products and wanted to offer a grocery option. I added products to my store from some of the restaurants that were temporarily shut due to COVID-19 to help provide them with much-needed revenue. For example, I bought tortillas, salsas and margarita mix from Lunita's Mexican Restaurant, and that helped them keep a staff person employed during the pandemic. I am also a retailer for prepared frozen meals from Sunshine Coast Food Service Response, an initiative starting during the first COVID-19 lockdown to create work for local restaurants that were temporarily closed.
On the environmental side, we're trying to be as package-free as possible. I choose not to sell some produce items that only come individually packaged (cauliflower, for instance). When I buy from my suppliers I try to use their waste reduction programs. West Point Naturals allows me to order my bulk products using as little packaging material as possible. As I mentioned, I used reclaimed wood to outfit my space, and I changed out all the incandescent light bulbs with LEDs to improve energy efficiency when I moved in. I'm supporting local suppliers and my supply chain has a much lower carbon footprint because I'm not buying from suppliers who ship from further away. Although we never have much food waste, when we do we compost everything. A local farmer comes and picks up my food waste and composts it on his farm and feeds it to his pigs. We've been doing more takeout during the COVID-19 pandemic, and so we made sure all our takeout containers are compostable. We even buy compostable garbage bags!
Follow on Instagram: