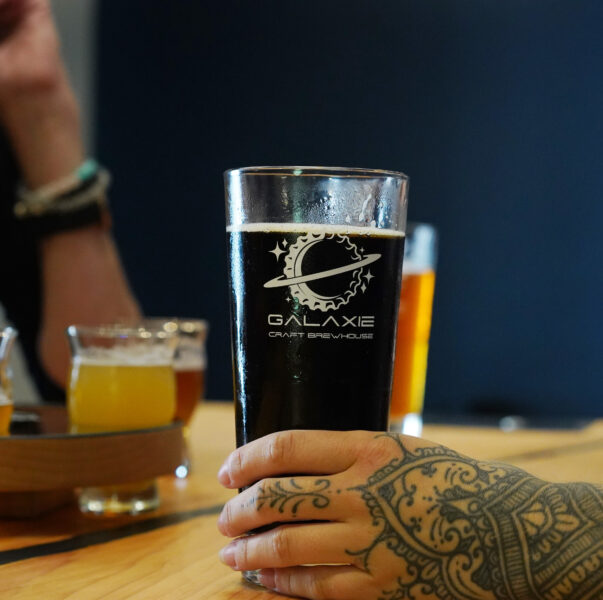 Galaxie Craft Brewhouse is a family-run business with deep roots in the White Rock community. Doug's brewing journey began with humble beginnings. What started in a garage with homemade coolers, propane burners, pots and kettles from the kitchen, and chilling coils attached to a garden hose, is now a well-recognized local brewhouse located right on West Beach. With over 10 years of craft brewing, Galaxie has established and continues to grow their unique range of fresh flavours, making them a local favourite.
Doug is obsessive and won't quit until his beer is just right! Doug likes experimenting with new-age hops, pumpkin, strawberries, blueberries, apricot, pomegranate, grapefruit, mango, passionfruit, chocolate, vanilla, molasses, honey, and spices to make some truly unique beers.
Question: How are you supporting other local businesses?
Answer:
We purchase our pretzels from a local South Surrey family (Those Pretzels) and these folks come and have beers at our place when they deliver
Greens from a local farm this past summer (Green Crest Farm)
We get our hops from a supplier in Chilliwack (Northwest Hop Farms)
We are going to add nachos to our menu and will be getting the chips from Primos just around the corner for our place!
Question: What social and environmental practices are you proud of?
Answer:
All the spent grains for every beer we make are picked up by a local farmer for cattle feed
All our spent hops are recycled organically with green waste
We don't use any dining ware that needs to be washed with water or chemicals, we use single-use green waste compostable materials (plates, cutlery, parchment, etc)
We recycle all our guests' hand towels
Follow @galaxiecraftbeer on Instagram: