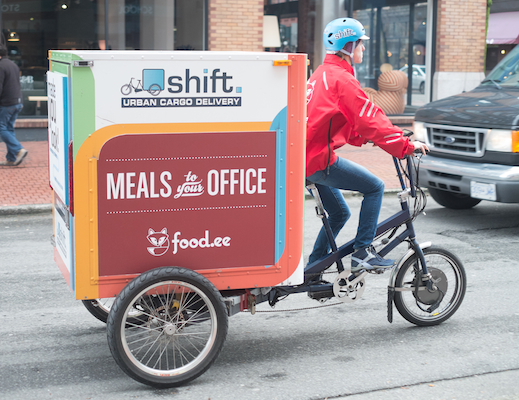 Food.ee was created as a greener and tastier alternative to the usual catered fare, delivered in environmentally unsustainable packaging to offices. As a co-owner of Tacofino, Food.ee's CEO Ryan Spong brought his passions for local slow-food, environmental sustainability and collaboration with local partners to Food.ee to create a catering concierge that curates best-in-class restaurants that share Food.ee's values. All their restaurant partners are also committed to local sourcing and compostable packaging. In keeping with its commitment to source locally, the company always looks for a local products and services, so 100% of inventory purchasing and non-inventory sourcing is local. Food.ee's collaborative local partnerships include working with SHIFT and using car sharing for food deliveries, promoting Growing City Composting (a local office composting service) and working with restaurant partners to help them become more sustainable. We recently had a chat with Saadia Sayed at Food.ee to learn more about what inspires Ryan to help other businesses.
Question: What inspired Food.ee to help other local businesses—both your restaurant partners and your corporate clients—to greening their operations? What specifically do you do to help them?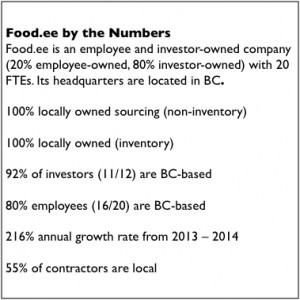 Answer: Coming from a restaurant perspective; our CEO understands the environmental impact of restaurants and tries to find ways to reduce the impact of waste materials. We ask that our restaurant partners use compostable packaging for Food.ee deliveries, and we will provide them with compostable packaging if they are not already using it. Some of our restaurant partners have now switched to compostable packaging for all of their take-out meals. We also work with our clients to help them develop greener business practices by composting food waste. We do this by promoting the services of Growing City Composting, a local office composting service.
Question: What are some of the social and economic impacts of Food.ee's focus on local sourcing and partnerships with local owned businesses?
Answer: The restaurants we partner with are getting more business, which means they are busier and can employ more local employees. It also means the restaurants are purchasing more food from local growers and suppliers, which in turn means that local farmers and food producers are getting more work. We also partner with other local suppliers and service providers, such as SPUD and SHIFT, so the money we spend is being reinvested into our local community. Promoting the services of Growing City Composting also helps to grow that business while helping our corporate clients reduce their environmental impact.
Question: What inspired Food.ee to join LOCO BC?
Answer: We're trying to be an influencer and advocate for using local resources, local sourcing, and helping our partners grow, so joining LOCO BC made sense. LOCO BC is about investing in local communities and businesses and we share that value. Our CEO Ryan is so committed to helping grow other local owned businesses, and the movement to buy local, that he joined the LOCO BC board in 2014.
Question: You're basically a tech business. How do you support and grow talent in BC?
Answer: We hire the best local employees that match our culture – who appreciate food and have environmental values. We invest in the employees that are helping our company grow – 20% of our ownership is designated towards employees, so it's more than just a job and a wage to them. They help us grow something of value, and we make sure they benefit from that growth.
Article by: Susan Chambers, author of Small Business, Big Change: A Microentrepreneur's Guide to Social Responsibility