Farm Country Brewing is a craft brewery based in Langley City, B.C. According to owners Arnold and Travis, it's called "Farm Country Brewing" because Langley was, and still largely is, farm country. They both grew up in Langley, and wanted to share their love of craft beer with their community. The brewery blends old-fashioned tradition and youthful enthusiasm to create beers that are fresh, flavourful and innovative yet still stay true to the traditions of old-world styles. Changing seasons bring new crops and new flavours to the farm and then to the table. As the food grown in the Fraser Valley changes throughout the year, so does their beer.
Question: How are you supporting other local businesses?
Answer: We support other businesses whenever we can, from our equipment, to the ingredients in our beer, the food we serve and the services we use. When we launched we purchased brewing equipment from Ripley's Stainless based in Summerland, BC. It was important to us that it was a local company with excellent quality, and as we grow, we'll need new tanks, and we'll continue to get them locally. We use a large percentage of local ingredients. We get all of our hops from local companies Bredenhof and Legit Hops who import them from the US and we just recently brewed a collaboration with 3 other Langley breweries that contains 100% locally grown fresh hops from Topps Hops.  We buy Canadian grains mostly, they come from Alberta, Saskatchewan and the prairies, and otherwise from Germany. We buy about 80% of our grains from Canada and 20% from Germany.
We use tonnes of local services – 90% of our service providers are B.C. companies. We get our brew parts from Ripley's or from Foundation Mechanical in Abbotsford, our lawyer is Carlos Mendes from Singleton Urquhart Reynolds Vogel LLP. since he specializes in B.C. beer law. All our growlers come from Universal Packaging in the Okanagan, and our glassware from Zenan Glass out of Toronto. Big Canadian company. The labels for our cans are printed by Westkey Graphics and are applied by local Vessel Packaging in Vancouver. The aluminum cans are actually from the US, but it's all Canadian jobs to fill, label, ship, etc. Our waste management is with Revolution Resource Recovery. and we buy all our merchandise from Econic Apparel. Our food is from several local suppliers – Hardbite Chips, sandwiches from Ritz Catering and Grill, pretzels and baked goods from Michael's Artisan Bakery & Cafe in South Surrey, and our vegan options from Leaf and Stem.
We also love partnering with other local businesses. We work with Thrive Mortgage Co. on local promotions and giveaways. And we partnered with Everything But the Groom Bridal Boutique on a beer called "Big Day ISA" to serve at weddings.
Question: What social and environmental practices are you proud of?
Answer: We make a big effort to reduce the waste we produce. We have a bunch of bins to separate all our materials. We have a local farmer come to take our spent grains to feed his pigs. He's a small operation. We take our recycling and cardboard to the Return it depot and the money goes back into the company. We also have a take-back program for the snap rings on the top of our cans – we offer $1 off the purchase of a 6-pack if you save and return 10 of them, and then we reuse them after sanitizing them.
We have donated to a number of local charities. We've only been open a few months, but we've participated in a few promotions for the Langley area, including one Discover Langley event from the Downtown Langley BIA where we provided shirts, a tasting and a tour. When there was a fire in a condo complex in Langley recently we donated 20% of our weekend proceeds to help out.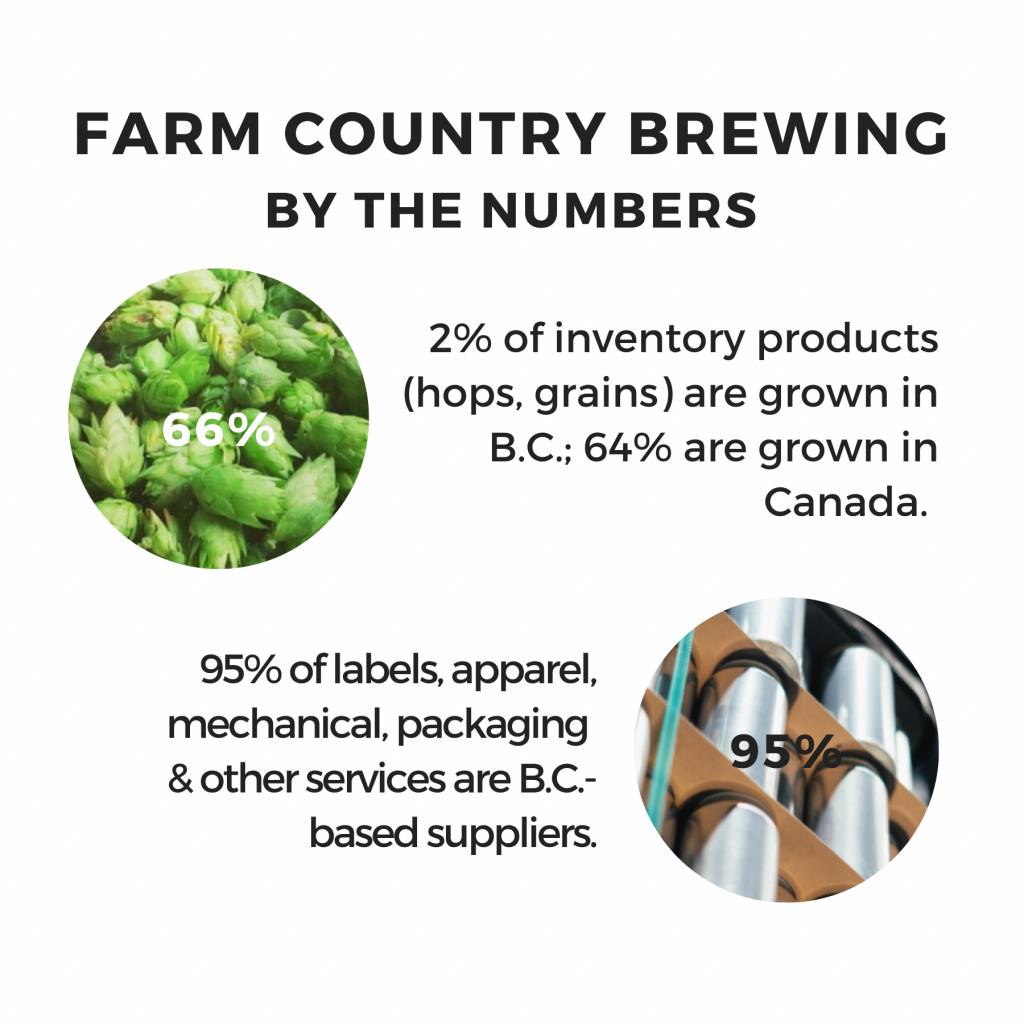 Follow on Instagram: