Eliza was born and raised on Vancouver Island. She trained at Central St. Martin's College of Art & Design in London where she graduated with a BA (Hons) in Fashion Design and Marketing in 2008. Eliza has since gained valuable work experience in the London studios of Erdem, Zandra Rhodes, and Roland Mouret. In 2012 she headed back west where the supernatural backdrop of BC serves as inspiration for her clean-cut yet vibrant sportswear-inspired aesthetic. Eliza has been named one of Elle Canada's "10 Canadian Fashion Designers You Need to Know", and her designs are favoured by Hollywood starlets including Marisa Tomei, Kelly Clarkson, Lauren Cohan, Nikki Reed, Nora Zehetner and Jaimie Alexander. Visit her website at ElizaFaulkner.com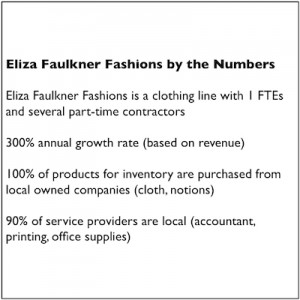 Question: How are you supporting other local businesses?
Answer: Even though the fabric in my industry typically comes from all over the world, I get all my fabrics from a Vancouver- and Canadian (Toronto)-based distributors. This season it's about a 50/50 split – it changes season to season. I buy many of my zippers and notions for sampling from Dressew in Vancouver. My clothing is designed at my studio in Duncan, BC and manufactured by a local factory called Kloth based in Ladysmith. I hire contract sewers part-time from Victoria to make my samples who work for me seasonally, twice a year. All my other service providers are local – my accountant is based in Duncan, my hang tags are made by a printer on Vancouver Island, I use a Vancouver business for graphic printing, and I use a Duncan-based office supply company. Only my publicist is not based here. I started using someone based in LA to get more international exposure. I like to support other local businesses – I have a mission to keep things to the mainland! But also because my business is so small it's just easier if the supplier is closer. My manufacturer just happened to be very local. They do small runs, which is helpful because when you're just starting out you need small orders made.
Question: What does living and manufacturing here mean to you?
Answer: It means I can trust the clothes are being made ethically and with care. The company I work with always does an impeccable job – they don't cut corners and for me, quality is so important. I can also sleep soundly at night knowing everyone is paid fairly and getting a lunch break!
Question: What social practices are you proud of?
Answer: I'm proud to support BC jobs, especially on Vancouver Island, by working with local manufacturers and other service providers!
Question: What environmental practices are you proud of?
Answer: Mainly that it's all made on the island – once the fabrics are shipped here there isn't a lot environmental footprint from shipping, and then all my stockists (stores that stock my products) are in BC. I also use eco-fabrics when I can. I'll be incorporating eco-fabric (bamboo knits) into my fall line, and I've used organic linens in the past. I also send all my scrap fabrics for reuse, which is a victory because there is nowhere to recycle them currently. I try to take them to other local artists and designers to use.