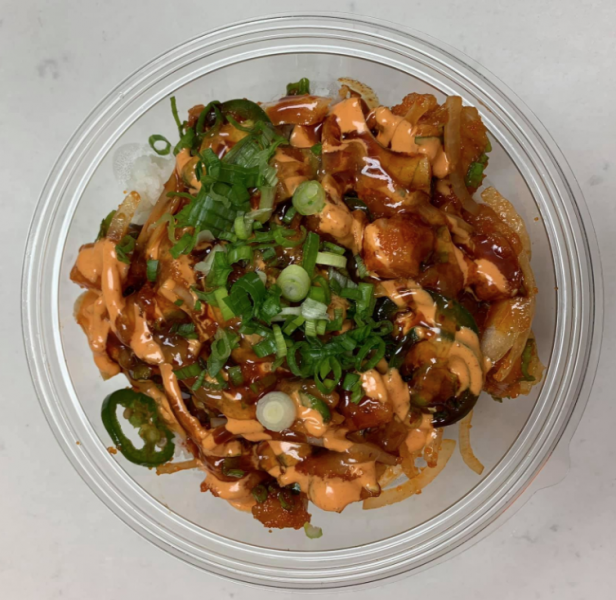 Dal's Poke is a family-owned, small Hawaiian restaurant.  Run by father and son (Neng and "Dal" Dalong), managed by wife/step-mom Vilay "Vee".  At Dal's Poke we are commited to provide only the highest quality fish and vegetables in each bowl.
Dal was born deaf, but that didn't stop him from doing the things he loves.  He fell in love with sushi when he tried it for the first time at his uncle's restaurant.  He worked at Honjin Sushi for eight years after graduating from high school.  When life circumstances changed and an opportunity presented we decided to open up a restaurant.  With Dal's future in mind and his experience as a sushi chef we decided to open Dal's Poke, serving only the freshest, healthiest and delicious poke bowl.
Question: How are you supporting other local businesses?
Answer: We buy from a local seafood supplier Angel Seafoods for our seafood produce from local supermarket.  Many of the services we use are local.  We buy containers, bowls, utensils from L&P Packaging in Burnaby.  Our accountant is a local independent guy in Langley.  We manage the small amount of waste we produce ourselves.
Question: What social and environmental practices are you proud of?
Answer:
As Dal, the chef is deaf we are able to cater to the hearing impaired.  Check out the story on us in the Langley Times. When word got out that we understand sign language at our restaurant, people started making trip from all over lower mainland and visitors from the USA.  We even had ASL students school field trip from Kelowna.
We reopened in our new location almost a year now.  We would like to give back to the community and will participate in charitable donation when possible.  For starter we are going to donate to some of the promotions that the Downtown Langley BIA are doing.  The proceeds will be donated to charity.
We are working on becoming environmental friendly restaurant as best as we can.  We didn't like using all that plastic for our eat-in customers so we just got approved from Health Officer to have sanitizing washing station put in.  Going forward we are please to be able to use regular dishes for eat in customers.
Follow on Instagram: