COLD TEA is a modern Chinese-Vietnamese restaurant that offers all day dim sum, Chinese BBQ, and Vietnamese family style food. Combined with a craft cocktail program, quality wines and friendly service, COLD TEA is the new kid on the block ready to wow diners on the Granville strip.
Question: How are you supporting other local businesses?
Answer: Most of our suppliers are local businesses, from food, to beverages, to service providers. We like to spread our spending around to support as many as we can – we've built relationships with them over time, and they've been good to us; we want to support them. At least 50% of our suppliers are B.C.-owned businesses. We use local food suppliers like Yen Brothers, Jim M Koo Produce, Blundell Seafoods, and Cioffi's Meats.
All of our beers on tap are from local craft brewers. We stock Parallel 49 (Vancouver) for our house lager, and also sell Twin Sails (Port Moody), Electric Bicycle (Vancouver) and Backcountry Brewing (Squamish). For our Moscow Mules on tap, we use house-made syrups and locally made Dickie's Ginger Beer. At least 30% of our alcohol purchases are from B.C.-owned businesses.
We also make the majority of our service purchases from B.C.-based businesses. Our insurance is from Northbridge (Toronto), our waste management is from Revolution Resource Recovery, and our accounting, bookkeeping and payroll is with Big Chip. Our POS is from Touch Bistro based out of Toronto.
Question: What social and environmental practices are you proud of?
Answer: We have about 25 employees. We try to be a good employer, and offer flexible hours for our employees based on what they need. We provide vacation pay for salaried management (10 days/year), and offer management and owners extended health benefits. It applies to their partners and families too, so we feel good about that!
On the environmental side, we never have much food waste, but of course when we do, we compost everything. We've been doing more takeout now, and so we made sure all our takeout containers are compostable. We even buy compostable garbage bags.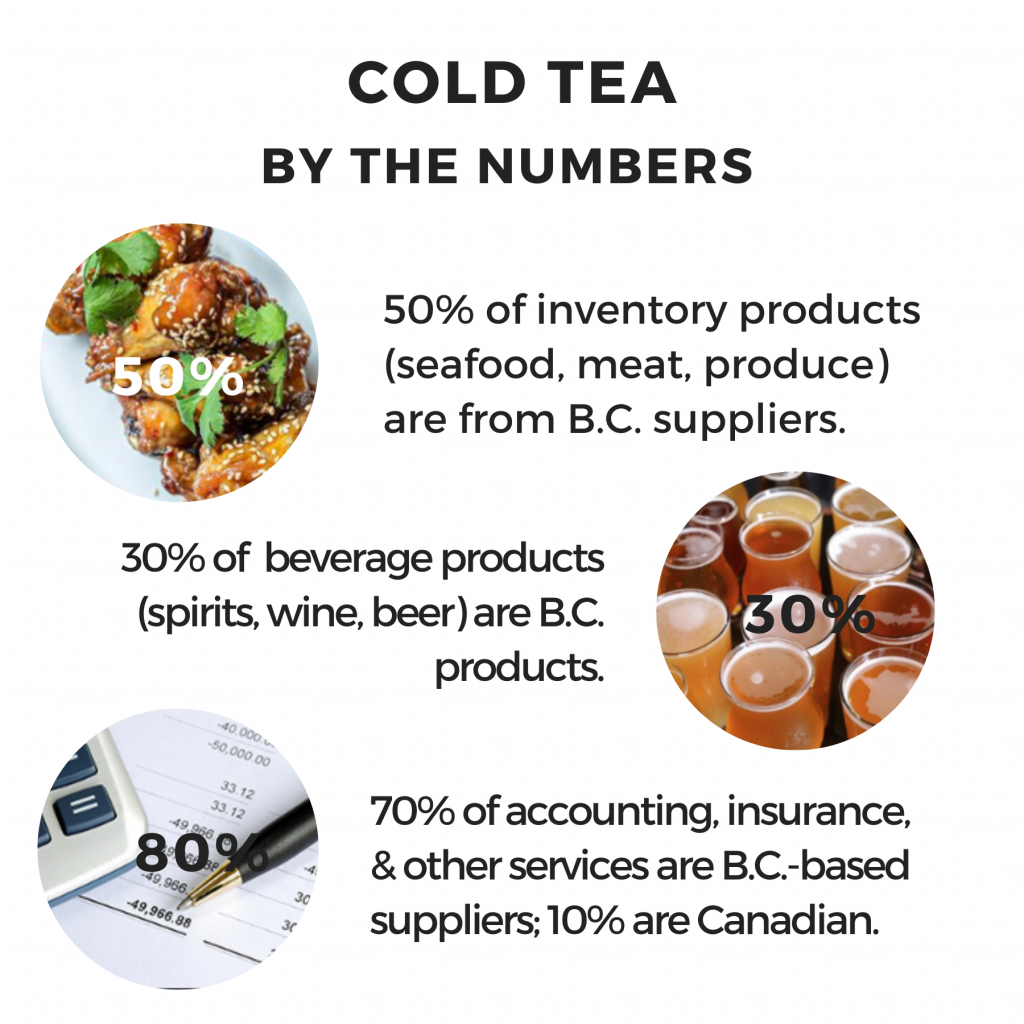 Follow on Instagram: