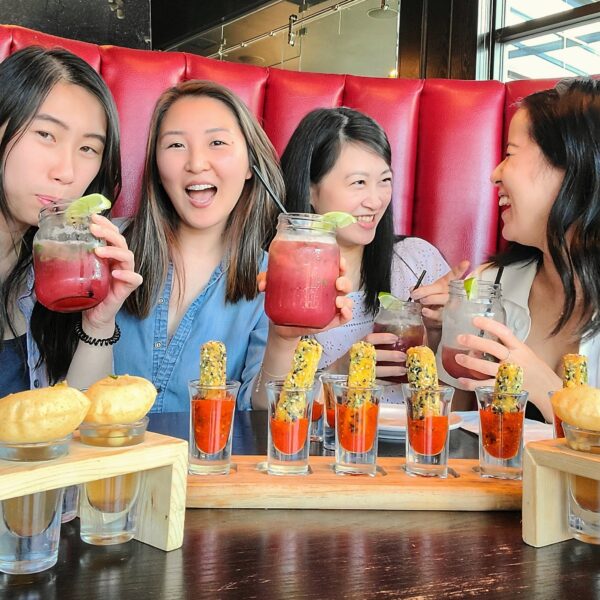 Chew on This Tasty Tours are elevated tasting experiences with every element thoughtfully planned out. Guests simply show up, ready to be spoiled! We offer private 2 to 4 person tours with the option for more larger groups on our custom curated tours.
We recently curated a custom tour as a team-building event for a group of managers and we have a board of eleven members who will be taking a custom tasting tour soon.
We offer the opportunity for weekday staff retreats and reconnections with an option to focus on food, art, music, architecture, shopping and history. Our tours are all self-guided with the option to add-on a guide. We have also collaborated with several local properties to offer accommodation packages.
Recently we added to our roster of celebrating local with the Discover Local Tasting Box. Each box offers up a variety of small-batch and locally produced food and drink. It's not a meal prep kit. It's all grab and go/on-the-go food and drinks. What a joy to collaborate, learn and share the stories and passion of these folks. Boxes are currently available as an add-on to tours. Guests pick up their box at one of the stops on tour.
There are also three Holiday-themed Discover Local Tasting Boxes available exclusively for the Holiday season that are at three different price points: NIBBLE, GRAZE & FEAST. We have had several large corporate orders for employee gift-giving for these already so sales will end November 26 or while supplies last.
Question: How are you supporting other local businesses?
Answer: We are a 100% locally owned small business and we 100% support locally owned small businesses. Our destination hosts are not expected to donate the food they give as tastings. This is a no-risk opportunity to highlight their business and gain new customers. Our producers in the Discover Local Tasting Boxes also have the opportunity to share their products and gain new customers! Currently, we are working with approximately 60 different small businesses and producers all over BC!
Question: What social and environmental practices are you proud of?
Answer: Many of our tours are on foot, all businesses are local and most seek to source their products and production as locally as possible.
By focussing on and featuring small businesses and small-batch producers we are supporting their success directly through the tours and boxes and also through social media features.
Follow on Instagram: