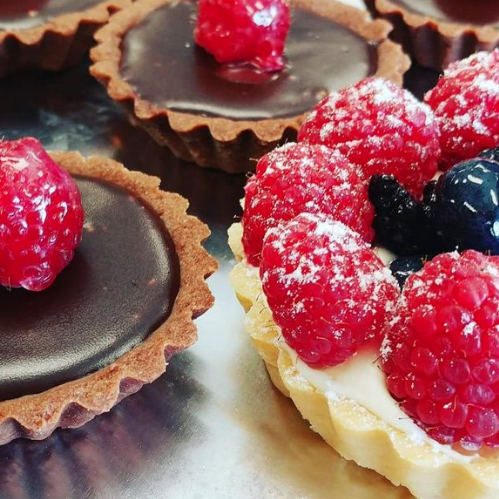 Bear Country Bakery is a retail and wholesale bakery offering a variety of baked goods, speciality coffees and teas, lunch and snack foods, including fresh sandwiches, daily soups, pizza buns and pepperoni sticks. It's a labour of love born out of a 20+ year dream, that finally came to be when we opened in 2018! We offer our community and the surrounding area the best scratch breads, buns, cookies, pies, tarts, pastries, vanilla slices, sausage rolls, chicken and beef pot pies, and seasonal goodies. We also make speciality cakes include seasonal cakes, birthday cakes, wedding cakes and cupcakes in a variety of sizes and flavours for all your special occasions.
Question: How are you supporting other local businesses?
Answer: Almost all of our inventory products come from local suppliers. We buy from B.C. businesses for everything from our flour and sugar to deli meats and packaging. For instance, we buy fruits and veggies for our sandwiches from Fruits & Greens Market, some of our flours, bases, oils, cheese, eggs and fillings from Snowcap, our deli meats for sandwiches from Freybe, and we get all our cold drinks like lemonades, iced teas and spritzers from Pacific Bottleworks in Langley. We buy all our packaging, cups, cake boards, bags, soaps, sanitizer, paper towel, toilet paper from Enterprise Paper, and use CC Crafts & Home Decor in Mission for most of the decor on the walls.
We buy a lot of our services from B.C. businesses and the rest are from Canadian companies. We use local companies for accounting, bookkeeping, banking, advertising, maintenance and repair, legal and our employee benefits. We bank with Vancity, use a local plumber, get our signage and printing from Nutek Sign Creations in Mission, and purchase equipment and equipment service from EM Bakery Equipment in Burnaby.
Question: What social and environmental practices are you proud of?
Answer: We are proud to pay a living wage to all our employees, and to help develop new careers in baking and cake decorating. We conduct regular fundraisers in support of various local charities, including Mission Hospice, the Christmas Bureau/Food Bank, Coldest Night of the Year, and donate to many silent auctions for local teams & community initiatives.
We are making a conscious effort to eliminate plastic packaging and moving towards paper packaging whenever possible. We also donate expired products to local food banks to feed the hungry and prevent food waste.