B.C. Buy Local Week 27-Nov to 3-Dec 2017
B.C. Buy Local week is an annual celebration of the unique contributions that B.C. businesses make to our economy. They strengthen the social fabric and donate to local causes. They provide great jobs, and support local service providers, keeping money circulating in the community. Consumers love local and B.C. Buy Local Week helps showcase B.C. local owned businesses, and B.C. local grown and local made products found in stores everywhere.
During the holidays, the average Canadian spends about $1500 on travel, food, drinks and gifts. B.C. Buy Local Week encourages consumers to shift at least 1% of that spending – just $15 – to a local business, or a local grown or local made product. If all consumers make a 1% shift, it creates 3 100 jobs and sends $94 M in wages to B.C. workers.

B.C. Buy Local Week Partners
LOCO coordinates B.C. Buy Local Week in partnership with leading businesses, Business Improvement Areas, Chambers of Commerce, Economic Development Organizations and Buy Local groups across B.C. Find out more about our #BCBuyLocal Week partners. Become a partner.
B.C. Buy Local Campaign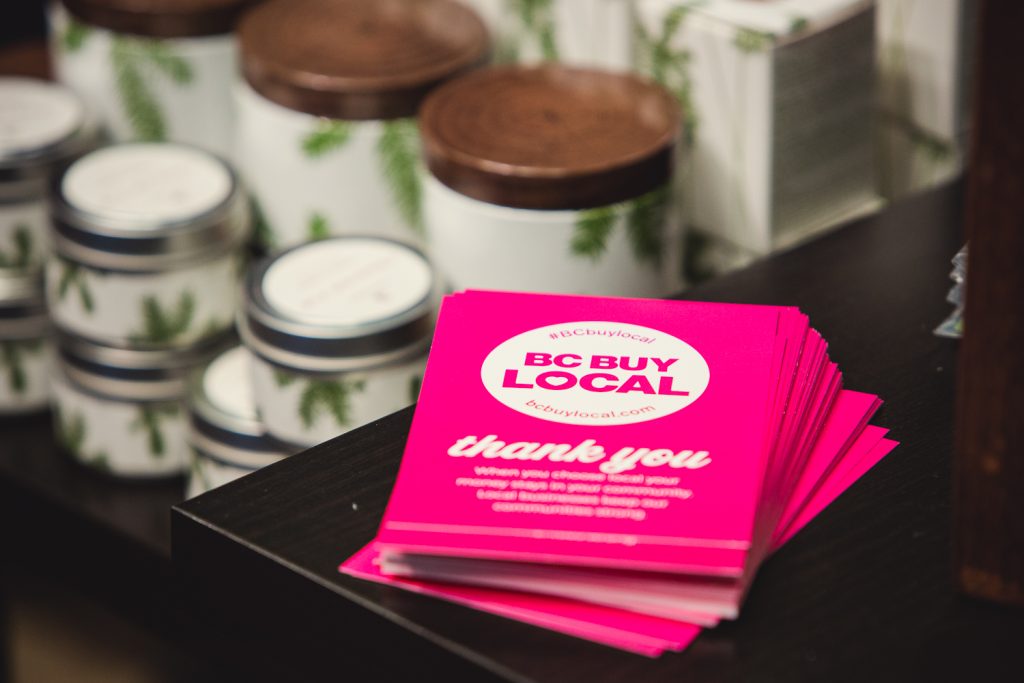 B.C. Buy Local is an annual campaign that celebrates local business to promote the contributions that B.C. businesses make to our economy and our communities. The goal of the BC Buy Local campaign is to provide a digital platform to highlight BC-based businesses and products. The campaign's pink dots to identify B.C. owned businesses and B.C. made and grown products. Our posters and rack cards identify how businesses create jobs and support local suppliers to make a big impact in the community.
Consumers participate by supporting their favourite local businesses, produce and products, and promoting their love of local with the hashtag #BCBuyLocal. Consumers can sign up for our newsletter at bcbuylocal.com for news about great B.C. products and businesses all year long.  Businesses participate by using campaign materials to identifying themselves as locally owned, by labelling locally grown and made products in stores and restaurants, and using the hashtag #BCBuyLocal to promote how they support local producers and service providers.
We work with business groups to conduct targeted business education and outreach on community impact measurement, buy local marketing and run mini-campaigns throughout the year.